We're focusing on new things
No need to worry; you'll still have access to this feature, but unfortunately, we can no longer support Timecards after 1st of June 2023. The good news, though, we're replacing it with new and improved features that will be even better. If you have any questions, do not hesitate to contact us at support@tymeshift.com.
This feature allows managers and agents to view an agent's time for a selected period; broken down by day of the week and type of activity. Managers will need to enable this feature for agents under Agent Permissions.
To access this feature, simply follow these steps:
Go to your tymeshift WebApp.
Click on the Timecard icon .
Once you have opened your Timecard, as a manager you can filter the data by the agent or by the period of time you would like to analyze. Agents will only see their individual timecard.

Once you have filtered the data, you will see how much time that agent has spent on Tickets, General Tasks, and been on Untracked time.

On the left side of the report, you will be able to access a breakdown of which tickets or General Tasks that agent was clocked into and for how long. You can expand the data by clicking on the arrow on the right side of the screen.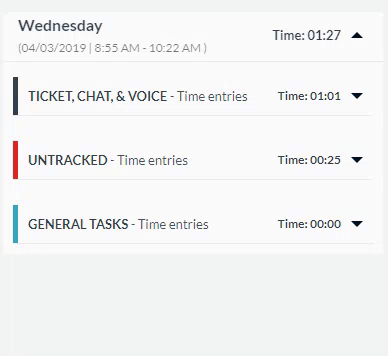 Note: the Timecard feature is not recommended as a sole report for agent performance. Instead, it is a complementary tool for other reports that we offer. We recommend checking Agent Activity or the Summary Report for a more admin-focused experience.