We're focusing on new things
No need to worry; you'll still have access to this feature, but unfortunately, we can no longer support it after 1st of April 2023. The good news, though, we're replacing it with new and improved features that will be even better. This feature is being replaced by Reports, and don't hesitate to contact support@tymeshift.com if you have any questions.
IMPORTANT: This is a legacy feature that is no longer available for customers who signed up for Tymeshift after July 27th, 2022.
Custom Reports allow you to understand how much time your agents spent working on Tickets, General Tasks, or were Untracked. You can analyze the performance of your workforce over a selected period of time and view data based on a wide range of criteria including agents, groups, and Zendesk tags, to name a few.
With appropriate Agent Permissions you will be able to:
You can load a previously saved report or establish the criteria for a new one. You will be able to filter it by Reporting Period, Ticket Status, and Agent or Group of Agents (you can include or exclude Zendesk Tags).
To run a Custom Report please follow these steps:
Go to Reports on the top

navigation bar

and select Custom Report.
Select your preferred Parameters:

Reporting Period for your report.
If you click on Show Advanced Options, you will be able to specify the Daily Time, which will allow you to filter the report for the specific time of day you would like it to show.
Viewing preference: you have 2 levels of viewing, by Agent or by Group. In addition, you can filter by the Agent Views you have set up.
Ticket Status preferences.
You can choose to include Tickets, General Tasks, and Untracked Time in your report.
Grouping preferences: you have the possibility to choose two layers of Grouping (Group By and Sub-Group By).
Add an additional layer by selecting specific Zendesk Tags.

Customize a Report: you can choose between two layers of Customization (you can

customize tymeshift fields in Export and/or Zendesk fields in Export).

4. Click on Run Report.
After you run the report, you will see a Pie Chart. It represents the first Group By selection you chose when filtering

.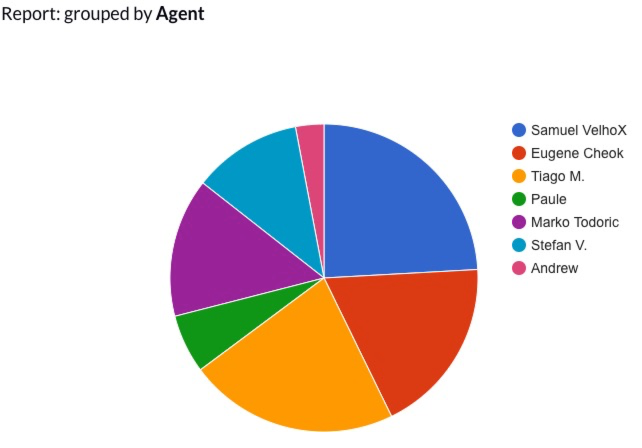 When you scroll down you can expand any entry to see the agents and the tickets your agents were working on. If you click on the ticket, it will open in Zendesk.

You can export totals in CSV or full CSV formats

. These file types are designed to provide you with raw, unfiltered data. Once you download the file, you can review the data and play around.
Note: when the CSV icon stops loading this means that your report is ready to be downloaded. If you opt to receive the report link to your mailbox, please note it will be accessible for 30 seconds.
Schedule a Custom Report to be sent to an email
To schedule a Custom Report please follow these steps:
Run a report and click on the small arrow close to Export Full CSV.
Click on Schedule.
Choose when you want to start receiving the report and at what interval.
Click on Schedule Now.
If you would like to view or delete your scheduled reports at a later date, select the View Scheduled Reports option.
Important: you have to choose one of the relative reporting periods (for example, previous payroll period or past 7 days, etc.) in order to be able to schedule the report.