We're focusing on new things
No need to worry; you'll still have access to this feature, but unfortunately, we can no longer support the V1 Zendesk Application after 1st of September 2023. The good news, though, we're replacing it with new and improved features that will be even better. This feature is being replaced by V2 Zendesk Application. If you have any questions, do not hesitate to contact us at support@tymeshift.com.
Important: The Task Lock is currently being upgraded to integrate with our new features and will lose functionalities with the legacy environment. For an accurate data tracking, please check the New Agent Activity.
Task Lock allows agents to remain clocked in to a single ticket or General Task, even while opening other tickets. This is helpful when an agent needs to research past tickets while continuing to track the time for a ticket they are working on.
Note: you can set a limit for how long the Task Lock can run after you enable the feature.
Follow these steps to enable Task Lock for your agents:
Go to the tymeshift WebApp.
Click on Agent Permissions .
Select an Agent.
Under the Automated tracking section, click on to enable it.
Limit the Task Lock time if needed.
Once you have enabled the feature, agents can use Task Lock in their tymeshift App in Zendesk (instructions below).
Your agents can access this feature from the tymeshift App in Zendesk by following these steps:
Click on the tymeshift icon in Zendesk.
Hover over the time tracked against the activity they are clocked into.
Click on the lock icon to lock or unlock the task.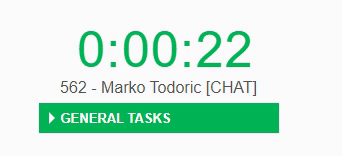 The Task Lock time limit will remain in effect for the number of minutes that you have set. After the predetermined amount of time has passed, Auto Clock will be re-enabled, and the agent's time will be shifted as usual.
Important: after the Task Lock time limit ends, your agents will need to open any other ticket for the Auto Clock to begin again. This means that if your agent has a ticket open that they are not Task Locked onto, their time will NOT be shifted once the Task Lock time limit ends until they open another ticket.
Note: If you have a rule set in place it will override the task lock. For example, let's say you have a rule to shift an agent to untracked after they've been clocked into a ticket for 30min. and the agent is using task lock. Once the rule triggers, the agent will be sent to untracked and remain locked in untracked until they disable the task-lock.