IMPORTANT: This is a legacy feature that is no longer available for customers who signed up for Tymeshift after July 27th, 2022. The functionality in this feature is now available in Reports.
Important: trend view in Summary Reports will not be included on accounts created after August 1st, 2021.
The Summary Report gives you insight into a variety of Metrics. It allows you to analyze your workforce's performance over a selected period of time, grouped in a variety of ways, and presented using different visuals.
This article has helpful tips about the Summary Report.
Note: this report contains real-time data, but after you run it, the results will be cached for 10 minutes.
To run a Summary Report, follow these steps:
Go to Reports on the top

navigation bar

and select Summary Report.
On the left side, you will see .
Select your preferred Parameters:

Time Period
Grouping preferences, there are 3 levels of grouping:
Filter options:
Zendesk Tags (optional)

Toggle over to Metrics and select the data you want to see in the report:

Rate Metrics
Time Metrics
Point Metrics
Other Metrics
Chat Metrics
Voice Metrics

Click Run to generate your report
Note: the report is displayed in a table format by default. You can also view it as a Pie Chart or Trends by selecting your visual preference after you run your report (this option appears at the top of the report) or by selecting a Pie Chart option right next to the metric.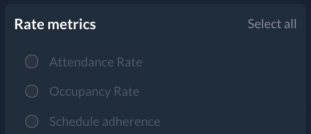 For each metric, you have the option to sort, filter, and display it as a Pie Chart. You can also add targets to each metric so it will highlight results that do not fall within an acceptable range.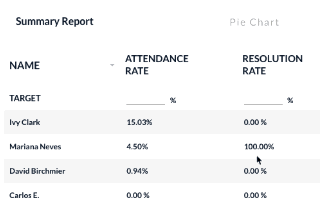 You can also expand the General Tasks tab to see a more granular view of the time distribution.

You can export this report as a PDF, CSV-Recommended, or Full CSV.

In order to export a CSV, follow these steps:
Run a report and click on the CSV icon in the top right corner.
Select the option to export:

Export CSV - Selected Metric: the export contains only the metrics you selected. This report contains all the data that you see in the UI if you Run the report.
Note: when the CSV icon stops loading this means that your report is ready to be downloaded. If you opt to receive the report link to your mailbox, please note it will be accessible for 30 seconds.
Schedule a Summary Report to be sent via email
Run a report and click on the CSV icon .
Select the format (option details explained in the section above):
Set the following parameters:

When you want to start receiving the report
How often you want to get it (interval).
What email address the report should be sent to

Click Schedule Now.
Note: if you would like to view or delete your scheduled reports at a later date, select the View Scheduled Reports option under the CSV icon.