We're focusing on new things
No need to worry; you'll still have access to this feature, but unfortunately, we can no longer support the V1 Zendesk Application after 1st of September 2023. The good news, though, we're replacing it with new and improved features that will be even better. This feature is being replaced by V2 Zendesk Application. If you have any questions, do not hesitate to contact us at support@tymeshift.com.
If you need to add time to an existing ticket manually, you can do so in Zendesk. It is important to make sure that you enable Manually Add Time on the Agent Permissions page for a specific agent.
Follow these steps to Manually Add Time:
In Zendesk, open the ticket for which you'd like to add time.
On the right sidebar locate the tymeshift App.
In the field + Time

enter the time in hours:minutes (1:30) or decimals (1.5).

Press enter to save.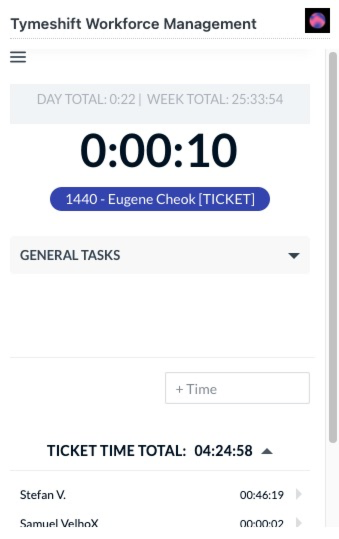 Note: once you've added time, you can see the entry by clicking on the expandable arrow (you will see data for the past year only and if you need to see all historical data for added times, please use the Manage Timesheets feature).